CHIP Reverse Mortgage provided by HomEquity Bank
Wondering if a reverse mortgage might be right for you?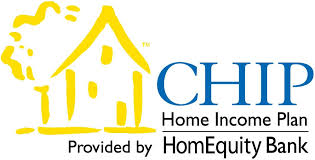 Here are some points to consider:
Features of a CHIP Reverse Mortgage
For homeowners age 55 and older
No payments are ever required(Although you may make them if you prefer)
No Income qualification requirements
No Minimum Credit requirements
Qualify for up to 50% of the value of the home
Money can be received as a lump sum, over time, or a combination of both
You always maintain title to your home
You are free to sell or move at anytime
Receive the money tax free
If you're looking for te most up-to-date information on the CHIP reverse mortgage program, I would suggest reading This Blog Post, or visiting the CHIP website at https://www.chip.ca/
You can also contact me at 2506820908 or Email Me
Testimonials
"CHIP is a way to take advantage of the equity that you have in your home and use it for whatever purpose you want."
Sandy & Christopher M
"If you sell your home you're gonna be living off the proceeds and what you're doing now is not selling your home and living off the proceeds."
Edward F
"If it wasn't for CHIP we would have had to sell our home."
James B
"Dealing with CHIP Home Income Plan was amazingly simple. I would recommend the CHIP program to anybody."
Jan & John M
Contact me today to discuss CHIP Reverse Mortgage solution and to learn more on how you can unlock the value in your home.
Our office can be found at:
Ryan W. Smith - Mortgage Broker
Mortgage West
242 Victoria Street, Suite 207, Kamloops BC.
Phone: 250.682.0908
Fax:250.374.2219
Our regular office hours are:
Monday - Friday, 8:30AM - 5:00PM
Save